Lake Kickapoo Reservoir is an artificial lake twelve miles northwest of Archer City in west central Archer County (at 33°39' N, 98°46' W). The waters of the North Fork of the Little Wichita River were impounded in 1945 to form the reservoir, which has a capacity of 106,000 acre-feet and covers 6,200 acres. The lake serves as a municipal water supply for Wichita Falls, thirty-two miles to the northeast. It was named for the Kickapoo Indians and for Kickapoo Creek, which empties into the reservoir. Lake Kickapoo has a drainage area of 275 square miles. The 3,000 acres of shoreline are owned by Wichita Falls. Since construction of the lake, various recreational spots have been developed, including picnic areas on Long and Council islands, which lie in the southern portion of the lake.
Lake Kickapoo Dam is on the North Fork Little Wichita River in Archer County, Texas and is used for flood control purposes. It was built in 1945. Its normal surface area is 9.7 square miles. It is owned by the City Of Wichita Falls.
Lake Kickapoo Dam is of earthen construction. The core is homogeneous, earth. The foundation is soil. Its height is 58 feet with a length of 8,200 feet. Maximum discharge is 82,500 cubic feet per second. Its capacity is 202,000 acre feet. Normal storage is 106,000 acre feet. It drains an area of 0.43 square miles.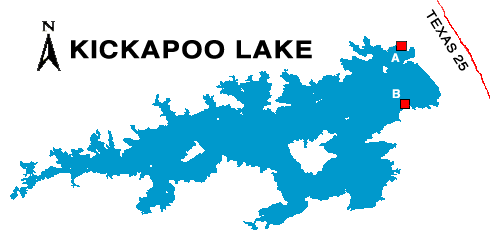 (A) Public Boat Ramp:
Located on the north side of the lake across the road from the fire station. Take FM 368 from Texas Highway 25 - [map at bottom of page]
Two-lane concrete boat ramp
No fee required
Open all year
Operated by Texas Parks & Wildlife Dept.
(B) Kickapoo Fishing Camp:
Located on the southeast side. Cross dam and look for signs - [map at bottom of page]
Heated & covered fishing dock (barge)
Bait available
Fee required
Open all year
Privately operated (940) 525-4431
Lake Characteristics:
Location: 29 miles from Wichita Falls in southern Archer County
Surface area: 6,028 acres
Maximum depth: 48 feet
Impounded: 1947
Water Conditions:
Conservation Pool Elevation: 1,045 ft. msl
Fluctuation: 6 feet
Normal Clarity: 1-2 feet visibility
Reservoir Controlling Authority:
City of Wichita Falls
Wichita Falls, Texas
Aquatic Vegetation:
Extremely limited in this turbid lake
Lake Maps:
Predominant Fish Species:
Fishing Regulations:
Fishing Cover/Structure:
Rip-rap, rocky points, and islands
Tips & Tactics:
Bass tend to be shallow off points and islands. Catfish can be found throughout the reservoir but best catches are from the upper part. Crappie are popular off the Kickapoo Fishing Camp Barge (fee required) using jigs and minnows.
Lake Kickapoo Fishing Camp